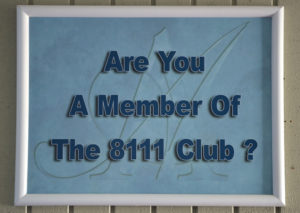 Is supporting 8111 the same as supporting Alcoholics Anonymous or Al-Anon?
No. The 8111 Clubhouse is a separate entity from Alcoholics Anonymous. While club members may also be members of the AA home groups that meet at 8111, the clubhouse is not affiliated with nor endorsed by Alcoholics Anonymous.

Do I need to be a member of 8111 in order to attend meetings here?
No. Any alcoholic or anyone seeking help for alcoholism can attend an AA meeting at 8111 or be a member of any home group that meets at 8111.

Do I get any special perks or privileges for being a member of 8111?
While there are no material "perks" or "privileges", most of our members enjoy supporting the club in order to keep the doors open for the next suffering alcoholic, just as previous members ensured that the doors were open for us.

Are donations to the Clubhouse tax deductible?
Yes. Additionally, one-time donations are always welcome and can be made online or deposited into the clubhouse safe.